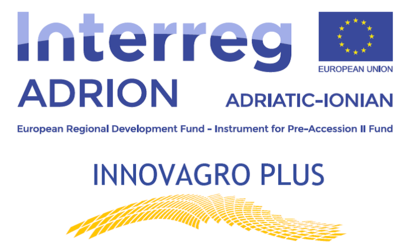 Development of an innovative network for the promotion of extroversion of agro-food companies in Adriatic - Ionian Area PLUS
| | |
| --- | --- |
| Project acronym | INNOVAGRO PLUS |
| Project title | Development of an innovative network for the promotion of extroversion of agro-food companies in Adriatic - Ionian Area PLUS |
| Lead partner | Chania Chamber of Commerce & Industry |
| Duration | 6 months |
| Start date | 01/01/2022 |
The main scope of INNOVAGRO PLUS project, as sequel of INNOVAGRO project, is the further promotion, exploitation and capitalization of the 2 main outcomes of INNOVAGRO project: a) INNOVAGRO Transnational Cooperation Network, and b) Virtual Transnational Business Innovation & Entrepreneurship Center (VIBIEC), at national/regional/transnational level maximizing their effectiveness.
More specific, the overall goals of INNOVAGRO PLUS project are to:
Increase awareness among potential beneficiaries, stakeholders and interested institutions on the role of European Territorial Cooperation to increase cohesion,
Promote INNOVAGRO project's outcomes and results to national/ regional/level,
Promote the practical use, relevance, and transferability of INNOVAGRO project's outcomes (e.g.: VBIEC) to potential beneficiaries, and
Provide first-hand information on managing and implementing European projects to future potential beneficiaries.
Finally, the main target groups and beneficiaries of INNOVAGRO plus are: a) SMEs representative organisations in the agrifood & tourism sector, b) farmers associations, c) business support organizations, d) R&D Institutes, and e) Regional & Local Authorities.
Open Invitation For Registration In The Innovagro Plus E-Platform